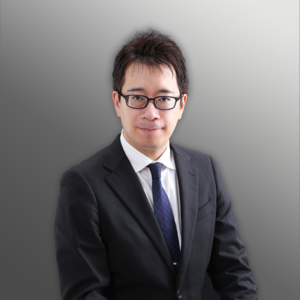 Microcopy Writing Association President
Eiji Nozu
"Microcopy" refers to very detailed copy that has never been discussed in copywriting materials or by experts, such as the short copy around the purchase button and surrounding areas, payment screens, and input forms.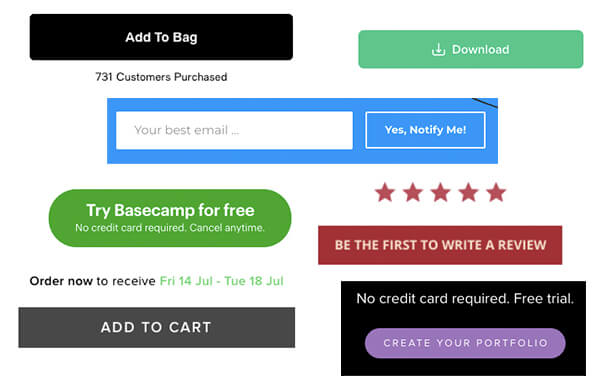 In recent years, it has been used on the websites of highly marketing-sensitive companies in Europe, the U.S., and other countries.
This is because scientific A/B testing of ads has shown that a difference of just a few letters can increase the number of users of a web service or significantly improve sales.
Unlike old-fashioned sales copy, microcopy requires no writing experience or special skills.
Anyone can easily make improvements by simply changing areas directly related to sales, such as buttons, payment screens, and input form areas.
Microcopy is the perfect web writing skill for those who want to increase sales "now" and "zero cost".
Why do we need microcopy?
The key to business growth is attracting customers and maximizing the customer experience.
To do this, you need the power of microcopy beyond design.
Because although 79% of visitors to a site skim through the content, only 16% read every word.
According to well-known UX research company, the Nielsen Norman Group, concise, easy-to-read microcopy has been shown to increase usability by 124%.
Customer experience on the web has a significant impact on purchasing behavior.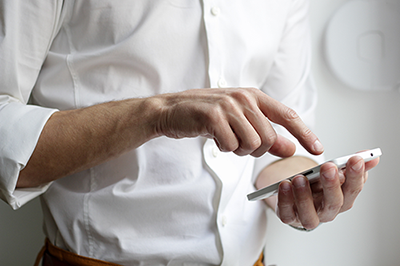 Take a look at the results of an Adobe survey.
・52.3% of consumers who looked up products they liked in stores on the web
・88.3% of consumers who researched products on the web after seeing them on TV or in magazines
In other words, if the web experience is poor, customers will not take action.
You might be thinking, "What difference can a few words of microcopy make?" but if you can't improve profits by a few thousand yen, you can't improve profits by a few hundred million yen.
It is clear that instead of doubling or tripling sales by investing in advertising, a single word microcopy improvement can be repeated four times to double sales at no cost.
'Working to improve microcopy is a dynamic business strategy.'
This is a quote from Kinoshita, President of Kita no Tatsujin Corporation.
One of the keys to business growth is to stay close to the customer's perspective and make a series of small improvements in microcopy.
We are the only institution in Japan that researches and teaches microcopy in a professional and systematic manner.
We have now established the Microcopy Writing Association to further increase the market share of microcopy.
In Japan, not many people are aware of the problems caused by not using microcopy.
In many cases, by the time they become apparent, it is already too late or the cost of improvement is enormous.
Now look how much sales can be increased by changing a few words.
The following is an estimate of how a company with annual sales of JPY 10 million and advertising spend of JPY 1.5 million could improve its conversion rate by 50% by changing its microcopy 3 times.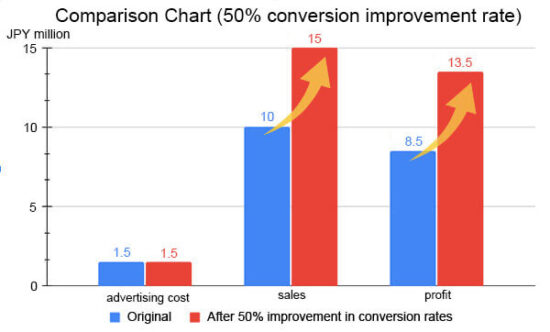 Calculating how much it would cost to advertise in the original state to make the same profit as when the 50% improvement was made, the cost is 2.4 million yen. This means that it would cost an extra 900,000 yen.
If this floating 900,000 yen is used for the improved site, an additional 9 million yen can be created. (Because the post-improvement ad spend rate is down to 10%.)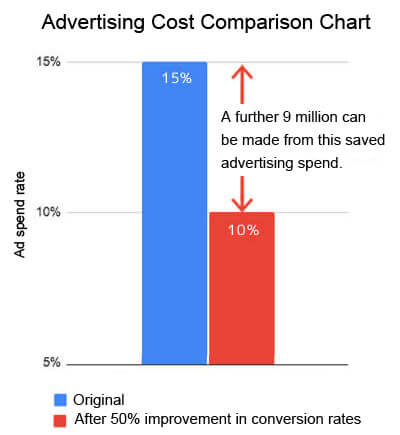 In essence, not using microscopy is equivalent to a loss of earning of 9 million yen per year.
Moreover, microcopy improvements can be made in 10 minutes.
As you can see, just a few words can make such a difference that microcopy is a business strategy that should be given the highest priority.
However, many companies working to improve their microcopy are simply imitating "just use these phrases", neglecting to understand their customers.
Such measures may not be very effective or may even lead to a drop in sales due to user distrust.
In terms of focus on usability and speed of improvement, Japan loses out to foreign countries by a wide margin. This means that it is losing out to foreign competitors in business
It is not about whether it is a good product. Does it convey the goodness of the product? That is important.
The key is design and usability from the customer's perspective.
If you compete on the basis of content, you will lose 100% of the competition.
For the future of business in Japan, low-cost, high-return improvement measures are necessary.
Our Microcopy‐writing Association aims to be a pioneer in this field.
There may be people who work hard every day to increase the number of users of their web services or significantly improve their sales, without being rewarded with results or recognition.
Our mission is to help such managers, webmasters/designers and sales writers achieve a super-profitable, ideal way of life by providing them with microcopy know-how, a means of significantly increasing their profits by conceiving just a few words.
We want to create a society where customer-first companies have a naturally inclusive approach to understanding customers and writing microcopy.
Microcopy is not well-known or widely used in Japan yet.
However, microcopy is a breakthrough technique for the growth of many small and medium-sized enterprises (SMEs) that cannot afford the extra cost, and ultimately for business growth in Japan.
The Microcopy Writing Association and microcopy.org continue to be the leading media for promoting and disseminating the global standards.
[The shortest possible roadmap for improving business profits.]
There are many other ways to increase customer engagement besides microcopy.
SEO, PPC advertising, email newsletters, limited time sales, improving page design …of course these are important.
However, all of them take a certain amount of time and money before results are achieved.
In business, hard work is not always rewarded with hard work.
Sometimes more serious people do not achieve as much as less serious people.
With microcopy, it is possible to increase conversion rate quickly and without significant costs.
We are the guiding light for improving business profits in the shortest possible time, so that everyone involved in the digital sector can live a truly happy life, without struggling or going too far.
[Hypothesis and verification, data-based]
We ensure that "discussions are based on figures, on facts".
In the world of the web, where a few words can make a big difference to sales, you need tools to check the numbers.
Numerical analysis is essential to determine if things worked as intended, if they just happened to work, if they didn't work and need to be improved, or if testing should be stopped.
Often, when it comes to improving website conversion, things do not go according to theory.
It is important to check.
Our boss is the customer, the CEO, marketer or consultant is just a reference opinion.
This means that the right answer lies with the customer.
Instead of running meetings based on speculation, we gather all the facts one by one, then make hypothesis and make improvements.
Figures are an important part of our business.
We believe that making decisions based on facts helps us succeed.